Project Location
Clark College at Boschma Farms is located on the north side of Pioneer, just east of I-5. In the future, Pioneer will extend east to a new roundabout. The entrance to Clark College will be at the north of the roundabout. The south end will connect to Union Ridge Parkway.
Project Highlights
The Advanced Manufacturing Center is the focus of this $58 million project. Planned programs include Subtractive and Additive Manufacturing, Robotics, Metrology, Computer Science, and Material Science. Due to the size of the project, the timeline spans over the next few years. Site plan work is scheduled to begin by June 2022, with occupancy targeted for late December 2024.
The site plan includes one main building with a twenty-five thousand square foot open shop. In addition, there will be classrooms, study rooms, storage and offices. In the future, the Clark College Foundation hopes to expand the site with proposed commercial development on the west side of the site.
Community Partnerships
Dedicated efforts from the Clark College Foundation have made this project possible. Other vital partnerships include: City of Ridgefield, Port of Ridgefield, Clark College Donors & Alumni, Department of Enterprise Services, the Cowlitz Tribe, Workforce SW Washington, the Business Planning Committee, CREDC, and many others. These partnerships will be important for years to come.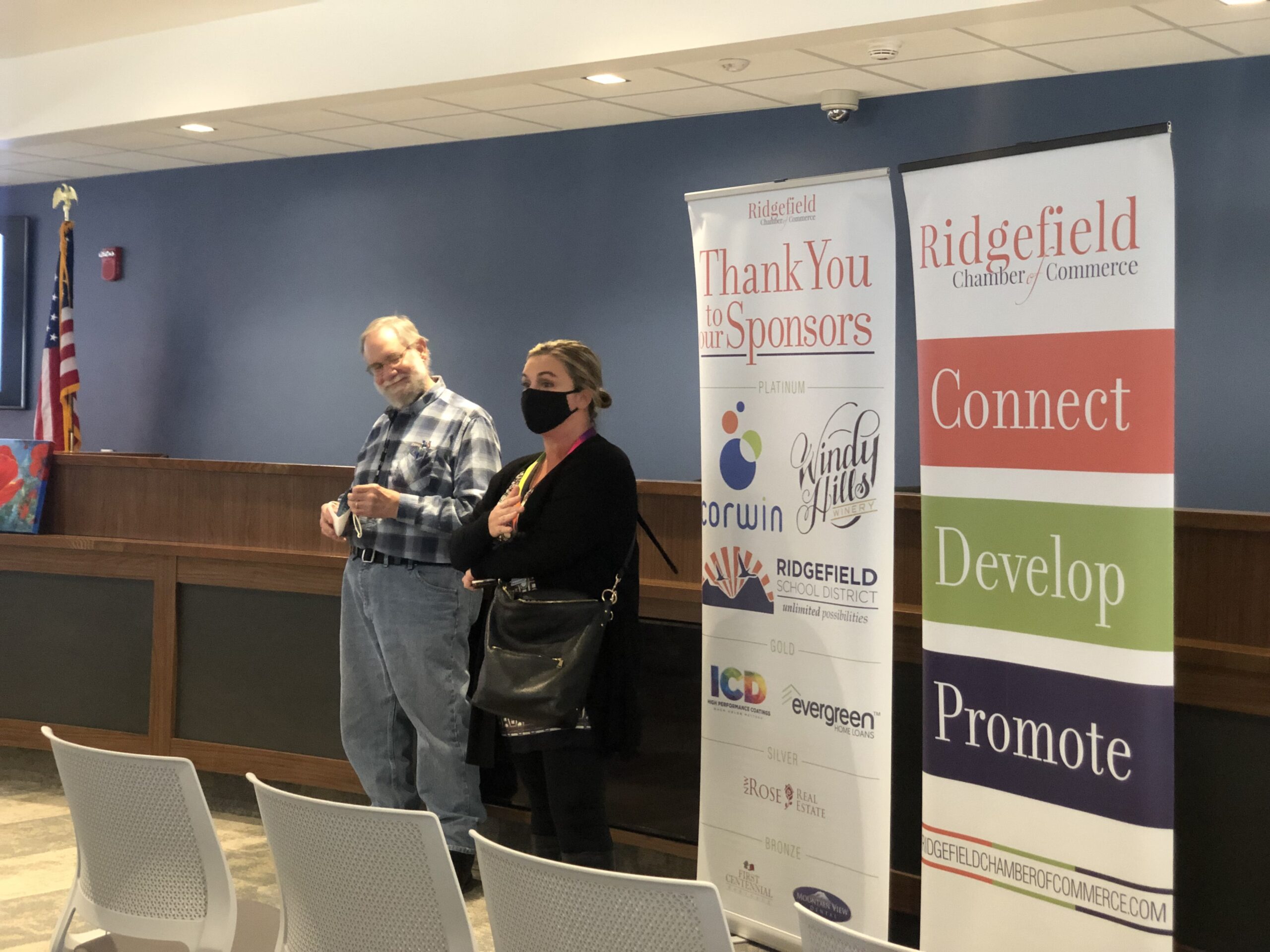 About our Monthly Meetings
Each month the Ridgefield Chamber of Commerce brings talented individuals to speak at our meetings. Our guest speakers educate and on topics that are relevant to the success of your business. 
Location:
Columbia Assembly Room
Ridgefield Administrative & Civic Center (RACC)
510 Pioneer St, Ridgefield
Interested in Speaking at our Meeting?
If you have an idea for a meeting topic or are interested in speaking, please contact us at [email protected] or fill out the Contact Form on our website!
Lunch Menu Options
Food is available at The Birds and the Beans, in the lobby of the RACC.  Lunch can be pre-ordered by contacting (360) 759-6300, in order to be certain that your preferred lunch items will be available. 
Menu: 
Fall Salad— Specify with or without  Fresh-Roasted Chicken.  An abundance of fresh fruit on a bed of lettuce with Chef's Choice of Two Cheeses, Candied Pecans, Dried Cranberries, Onion and House  Made Lemon or Balsamic Vinaigrette Dressing. $12

Side Caesar Salad—Romaine topped with Olives, Shaved Parmesan, Tomatoes, Croutons and House Made Dressing, Small Side. $6

Chicken Bacon Caesar Salad – Large Caesar Salad with Fresh-Roasted Chicken and Crispy Bacon. $12

Club Salad—Fresh Roasted Chicken or Turkey and Ham, Bacon, Hard-Boiled Eggs, Tomato, Chef's Choice of 2  Cheeses, olives, Onion,  Candied Pecans and House Made Ranch or Creamy Basil Dressing. $12

Chicken Pesto Wrap—Fresh-Roasted Chicken, Pesto Cream Cheese (Contains Pine Nuts), Bell Pepper, Onion, Cucumber, Lettuce and Sun-Dried Tomatoes  served with a side of our Creamy Basil Dressing for Dipping. $12

Caprese BLT—Mozzarella, Bacon,  Lettuce, Tomato, and Pesto (Contains Pine Nuts) on Focaccia. $12

Chicken Caesar Club Wrap—Fresh Roasted Chicken,  Herbed Cream Cheese, Bacon, Sun-Dried Tomato and Onion Served with a side of our Caesar Dressing for Dipping. $12

Turkey and Swiss on a Croissant—with Tomato, Onion, Lettuce and House Made Dijonnaise. $12

Chocolate Chip Cookie  $2

Gluten-Free Peanut Butter Cookie  $2.50

We have a full supply of desserts available!